Dinosaurs Of Film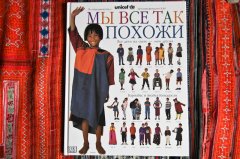 I love to learn how people live in other countries, about their lives, their favorite classes, their dormitories, their favorite dishes, just about life. But it was very interesting!
So, on the advice of my dear Aline, I found a very clear book from the bucinists published in cooperation with Yunisef, "We're all so similar." By creating this book, Barnabas and Anabel Kindersley travelled to 31 countries, their journey took more than a year. Oh, what a great job!
The book is very interesting and I wanted to share some turns with the same ethnographic amateurs: My personal favorites are Bohna from Poland, Este from Tanzania, Erden from Mongolia, Thi Lien from Viet Nam and Sucart from Thailand.